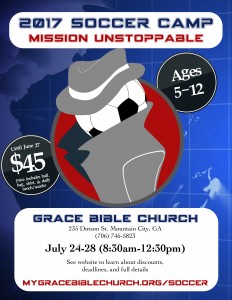 We're excited to let you know about our 2017 Soccer Camp at Grace Bible Church. Each year, this soccer camp is held with the dual intentions of teaching your children basic soccer skills as well as teaching them the greatest news in all the world, the Gospel of Jesus Christ.
Each day we will begin the day with soccer drills, followed by a time of Bible study and learning from the Word of God. After our Bible study time, we gather in our teams for a full-length soccer game. Finally, the day ends with lunch before parents pick their kids up.
Below are some important details that you will want to know:
Dates — July 24-28 (M-F)
Times — 8:30am – 12:30pm
Ages — 5 – 12 years old
Cost — $45 ($10 less for additional siblings) through June 27. AFTER June 27, the price increases to $55. Price includes daily soccer training, snacks, lunch, and a soccer ball, t-shirt, and camp bracelet.
How to Sign up — You can download the registration form by downloading our Soccer Camp Registration form, or you can pick one up in the church office or on the welcome table in the church foyer. After filling out the form, you can return the form, along with the registration payment, to the church office M-Th from 9am to 5pm.
Please let Zack Ford know if you have any questions about the camp. You can contact him by email  at ztford1@gmail.com, or by phone at (706) 746-5823